Welcome to 6 Family Adventures that will live on and on…
Now the entire family can enjoy "active vacations" that are good for the mind, body …soul.
CHECK BACK SOON TO SEE MORE PICTURES FROM THESE GREAT ADVENTURES
---
1. Bonaventure
Gaspe Peninsula, Forillon National Park, Appalachian Trail, Bonaventure River
Experience the Quebecois
"joie de vivre" –
"joy of life"
And for a week…become part of our family!
All inclusive package.
Gaspe is a scenic world of sea, coastal cliffs, and tiny villages. The marine life is extraordinary, too. Whales cruise off shore; gray seals closer in shore. And marine birds are everywhere. In fact, Ile Bonaventure is one 0f the eastern seaboard's most important nesting sites for Auks, Kittiwakes, Puffins and many others.

History is everywhere on this coast. This is where Jacques Cartier claimed Canada for France in 1534. It was also this coast from which the Acadian refugees fled from the cruel British in 1750's.

Then there is the Forillon National Park—wrapped by a spectacular coastline, perfect for paddlers. This is where you see geology at work in the steep grey-white cliffs creating beautiful crescent beaches.

Backpacker magazine once described Gaspe Park as "a treasure hidden too long in the attic of the continent."

The interior of the Gaspe Peninsula is wild mountains, forested valleys, ravines, waterfalls and clear salmon streams. Wildlife is everywhere. It's mountains also happen to be the hind leg of the Appalachian Mountains, which led to the creation of the International Appalachian Trail (IAT).

The end of the trail is in Forillon National Park Where you can walk up onto a cliff top and see the Appalachians end 300 feet below on a beach at Cap Gaspe —which incidentally is a corruption of the native Mi'Kmaq "gaspeg" meaning "end of the world."

Bonaventure River: Quebec's prettiest river –Water like glass – clear, green, and transparent. Bonaventure en francais literally means "good adventure" and this river lives up to it's name in every way.

The crystal clear water is amazing. Ripping along with the current, you get the odd sensation of floating. Not on the surface, but right above it. Probably the closest thing to flying that a human will ever know.

Last word goes to Guillaume Lavaud who spent a week at Bonaventure with his mother. A month later,he turned to his mother in the kitchen and said "Remember when we were in paradise? Out of the mouth of babes…

Your adventure begins with a 2 PM check in at our main lodge where you will be warmly greeted and get a chance to meet a few of the crew.

From there you will be escorted and introduced to an exciting experience in lodging as you step into your own teepee – comfort, class and adventure wrapped into one! You are sure to warm right up to the wooden loors raised beds and fireplace. Your stay includes 5 nights in the teepee, which sleeps up to 6 comfortably. Your bathroom and shower facilities are just a few steps away.

Once you all get settled in — come out and have a walk around – watch the salmon as they swim right by you in the crystal water… then come join us for some dinner. Perhaps a bike ride after your dinner…. It stays light until 10 PM!

One of your best memories might well be the "LOBSTER POW WOW". You'll all be welcomed in the grand Teepee for this incredible culinary spectacle and taste treat, as more lobsters than you've ever seen before are steamed to perfection in a huge caldron before your very eyes on the teepee center fire! Never before… and probably never again… will you be dined like this!

Each day of your stay you will be welcome to join in the planned activities "du jour" with our guides, or feel free to use our equipment and do some adventuring on your own. Imagine — we have over 100 boats — kayaks, sea kayaks, canoes – for your pleasure.

Your package price includes all meals – delicious breakfast, lunch and dinner in the dining pavilion. If your day will keep you away from camp – just let your host know and they'll fix you up some bag lunches to take along with you!

PRICE:
5 DAYS/5 NIGHTS
3 DAYS/3 NIGHTS
15 yrs. to Adult

$650.00

$420.00

12 – 14 yrs.

$450.00

$300.00

6 – 11yrs.

$300.00

$200.00

5 yrs & under

$150.00

$100.00

Arrive by 4 p.m./ dinner included
Depart by 2 p.m./ lunch included

Departures: Anytime- Duration: 6 nights, 5 days –

Activities include:
Sea-Kayaking in the Baie des Chaleur
An entire day excursion and sea kayaking instruction
River Kayaking on the Bonaventure
Overnight trips available with camping on the river
River Canoeing on the Bonaventure River
A great choice for the gung-ho teenager. Watch their first wet flip!
Sauna
… Right next to your teepee
Swim
Watch Atlantic Salmon swimming up river
Hiking the new Appalachian Trail
Bicycling around camp or in to townSome other activities you may enjoy on your own:
*Visit the Gaspe Peninsula,
*The Rock at Perce,
*Jacques Cartier monument,
*Acadian Museum,
*Forillon National Park,
*Go fly-fishing for Atlantic salmon,
*Visit fishing villagesDeparture: 5th day at noon — but join us for lunch before you get on the road!
| | | |
| --- | --- | --- |
| | | |

2. Rivière Éternité
Whales, Whales, Whales!
In the heart of the Saguenay Fjord, Riviere Eternite is the gateway to the Saguenay Park. Here you will discover the Baie Eternite, the spectacular and deepest part of the fjord, where the cliffs reach breathtaking heights.
Located only a few steps away from this magnificent park, our Riviere Eternite Chalets outpost offers hearty accommodations in cozy chalets that offer intimacy and rustic charm. Each of there small wooden cottages is equipped with a kitchenette, a bathroom complete with a shower, and a living room with a fireplace. One-bedroom chalets accommodating four persons are available as well as 2 bedrooms for up to 8 persons. Located in a wooded area and set back form the main road, the dwellings assure complete tranquillity for their occupants. A restaurant is located nearby offering regional and home-style cuisine.
Also within close proximity are a grocery store,post office, gas stations and convenience store. The Riviere Eternite chalets are centrally located in the Saguenay Region from there you can enjoy doing day trips.
Activities close by:
*About 15 minutes from your Chalet amidst
towering cliffs and striking scenery make
your way by the road to the Saguenay Fjord.
Sea Kayaking rentals or a guided 2 hour
excursion are available. You may also visit the
Fjord interpretation center.*Take a Zodiac (motorized raft) excursion to see the Beluga whales and the fjord.
*Go whale watching in Tadoussac. Get on a boat and
go for a _ day whale watching for Blues, Humpback,
Minke, Fin and Belugas … an experience of a lifetime.Recreational and Cultural Activities:
The Saguenay Fjord Interpretation Center
Ecotourism zodiac excursion
Cap Trinite boat cruise
Observation and interpretation of the beaver
Short hiking excursions
Art exhibitsOnly a few minutes from Riviere Eternite:
Saint Felix-D'Otis "The Nouvelle France" set from
the movie "Black Robe".
Horseback RidingAdventure:
Guided Sea Kayak excursion
Long hiking excursions
Lake and/or river fishing
Mountain bikingPRICE:
2 Adults (+max 2 children) $82.00 per night
4 Adults (+max 4 children) $140.00 per night

Photos courtesy of Tourisme Sagueney/Lac St. Jean and Le Quebec Maritime
---
3. Kenauk: four star privacy.


Fishing at Kenauk is like being a millionaire for a week. You own Private lake, your own luxury chalet and all the fish you can sink your hook into. What makes Kenauk so special is their policy of only one party per lake. That puts you in your own chalet on your own private lake with nothing but the trout and the quiet beauty of a glass smooth lake — sheer bliss. Meaning only 13 cabins on 104 square miles of property and 70 lakes teaming with Rainbow and Brook trout, Bass, Laketrout and Northern Pike.

Kenauk sits deep in the Outaouais region,scenic with forests, countless lakes and natural beauty. This resort boasts 70 of its own lakes, the largest of which is Papineau. Papineau is 5 miles long and dotted with islands begging to be fished for largemouth and smallmouth bass that call it home. This is the only lake where you would have to share with other cabins.
Kenauk also has bragging rights to its own trout hatchery, stocking the fishing lakes with Rainbows and Brook Trout. Thanks to their conservation minded practice of one-fisher-per-lake-at-a-time,you're pretty much assured of striking fish.

Kenauk is located 1-1/2 hours from Montreal and Ottawa. You may fly to Montreal, rent a car and … voila!
And the Chalets are really something to behold. They're beautifully finished inside with flush toilettes, hot showers, wood stoves, fresh linens, full kitchens and comforts, all lovingly maintained by the wonderful staff at Kenauk.

Plenty to keep the kids occupied, too — canoeing, cycling, and swimming. Plus the resort has its own naturalists who give guided nature walks. Or, you can hire a fishing guide for a day or _ day to show you the sweet spots and the tricks of the trade!

The package price includes your fully equipped Chalet kitchen,and boat/motor.

"Complete peacefulness".

As a guest of Kenauk, you are also welcome to enjoy many of the activities at the Chateau Montebello resort. Chateau Montebello is the largest log hotel in the world. Swimming pool, sauna….etc. You get the best of both worlds.

A word of advice… Because Kenauk is so popular it sells out every year. July and August are especially popular…and so if your vacation plans fall here don't delay in booking as far in advance as possible.
PRICE:
3 NIGHTS
5 NIGHTS
Adult
$495. U.S.
$695. U.S.
Children
Under 5yrs.
FREE
FREE
6-12 yrs
$20. Per night
$20. Per night
13-17 yrs.
$50. Per night
$50. Per night

taxes included
Does not include fishing license, equipment, food or guide.
| | |
| --- | --- |
| Photo: Jean-Guy Lavoie/Le Quebec Maritime | Photos by Alain Dumas |
---
4. Pipmuacan:
Northern Pike hunting for the family
Some of the best fishing trips are family trips…no question! But it's not always easy to find a lodge, especially one in the far north that caters to adults and kids.

Happily, Pipmucan Lodge solves this problem. The 22-guest facility has designated four tours as family 5-day adventure. You can go safe in the knowledge there will be other kids there, that the adults will be a little more moderate in their alcohol consumption, and that there will be an activities director on the site.

In fact, kids or not, you can be sure of great service at Pipmuacan. With 14 staff to 22 guests, the odds are pretty much on your side. You get one guide per family so finding honey holes is not going to be difficult. Fightin' Pike are the main event, scads of 'em in the four to ten pound range, with big guys, 15 pounds or more, showing up on a weekly basis.

The drive-in lodge sits on the shores of the Reservoir Pipmuacan, 400 miles north of Quebec City and the road takes you through the Laurentide Provincial Park so it's worth the drive time to drive. You can also visit Old Quebec City on the way back.

Northern Pikes and Walleye usually frequent larger and warmer bodies of water, while Trout usually prefer colder waters in higher elevations or further north. This resevoir holds mostly Northern Pike and Walleye. Because the Northern Pikes put up such a ferocious fight… the kids and adults are looking at an exciting days work of fishing.

For anyone who doesn't care to go fishing…there is the option to just stay and relax…talk to Ma Leclerc (the Chef) about life up North. Perhaps a lazy game of horseshoes…or hide and seek… or a baseball game with the pine trees as bases. Loads of good old fashioned, wholesome fun!

The entire lodge may be booked for your Boy Scout troop, school, group of families or reunions too.

Price includes all meals, accommodations (bring your own sleeping bag), a guide for each family, plus boat, motor/gas and activities.
THIS FAMILY PACKAGE INCLUDES:

4 nights lodging in a fully-equipped private cabin at Adventure Pipmuacan Lodge
13 great meals prepared by the lodge (no dishes, no cooking!!)
1 boat, motor and gas per family
preparation of fish for return
daily activities by camp counselor
all applicable taxes

Not included: transportation to lodge, in-between meal snacks, tips to staff, fishing permit, fishing tackle.

PLEASE NOTE: Only 1 boat is included per family. An extra boat and guide is available, for a nominal fee, if reserved in advance.

PRICE: 5 days/4 nights
2 Adults (+max 4 children under 18) $1,100.00 U.S. per family
2 Adults (+max 2 children under 18) $840.00 US per family

Family package dates
August 4-8, 2002
August 11-15, 2002
---
5. Duchesnay:
Quebec City and surrounding Countryside 89 Km2 resort and 42 Km of hiking trails
About 20 minutes west of Quebec City, the Duchesnay lodges and chalets stand apart from any other in Quebec. The former site and buildings of a forestry university Duchesnay has been transformed into a first class resort for nature lovers and vacationers.

Duchesnay offers 5 "pavilions" – large rustic log buildings with modern rooms and private bathrooms off a main "great room" complete with refrigerators, fireplace and cozy couches and chairs for resting, reading or just relaxing!

In addition there are also beautiful chalets, which house 4-10 people very comfortably, right on "Lac St. Joseph" …. Perfect for your family stay!

Of all the Q. A. packages this is the perfect place to stay to discover the greater Quebec City and country region. Activities offered and included on the property include: canoeing, kayaking, swimming in Lac "St Joseph", badminton, volley ball, croquet, horseshoe, petanque, archery, playgrounds for the little kids and indoor playrooms with the works for rainy days. Bicycle on the beautiful grounds within the resort or on the paved trail that goes all the way into Quebec City, and 100 km beyond, the path runs right through the Duchesnay…an all day ride if you wish. Bikes, canoes, kayaks – you name it …we have it there for your pleasure. All this while dad back at the chalet cooking the burgers on the outside grill! A good restaurant is located on the property just in case!

From your chalet go and discover old Quebec City – the history, architecture, art galleries, great restaurants, pubs… and shopping! Visit the famous Plains of Abraham. Go canoe or raft the Jacques Cartier river. Visit the beautiful Chalevoix region. Go fishing in the wildlife reserve or drive around the countryside looking for your favorite old French Canadian style home …perhaps find some antiques to bring back!
| | |
| --- | --- |
| | Now take this same place and add snow to the picture… And you get the winter Duchesnay. As popular as summer our winter vacations include all the same lodging options described — only your activities will change: snowshoeing, cross country skiing (150 km of trails on our property and over 1000 in proximity) ice skate or play hockey on our skating rink, make forts in the snow, try dog sledding… You'll never forget it! Rent a snowmobile for 1/2 day discovery ride. Picture your kids well dressed with hats, boots, mittens and snowsuits…. rosey cheeked and smiling…warm fires and good food… |
PRICE:
3 NIGHTS
5 NIGHTS
10-12 people
$675.00*
$975.00*
8-10 people
$600.00*
$875.00*
6-8 people
$525.00*
$775.00*
4-6 people
$450.00*
$675.00*
Not included: a dog-sledding or snowmobile rental — they are "a la carte!" *U.S. Per Chalet
---
6. RAFTING the BATISCAN/ MATTAWIN:
The family that rafts together stays together…
come calm or white-water!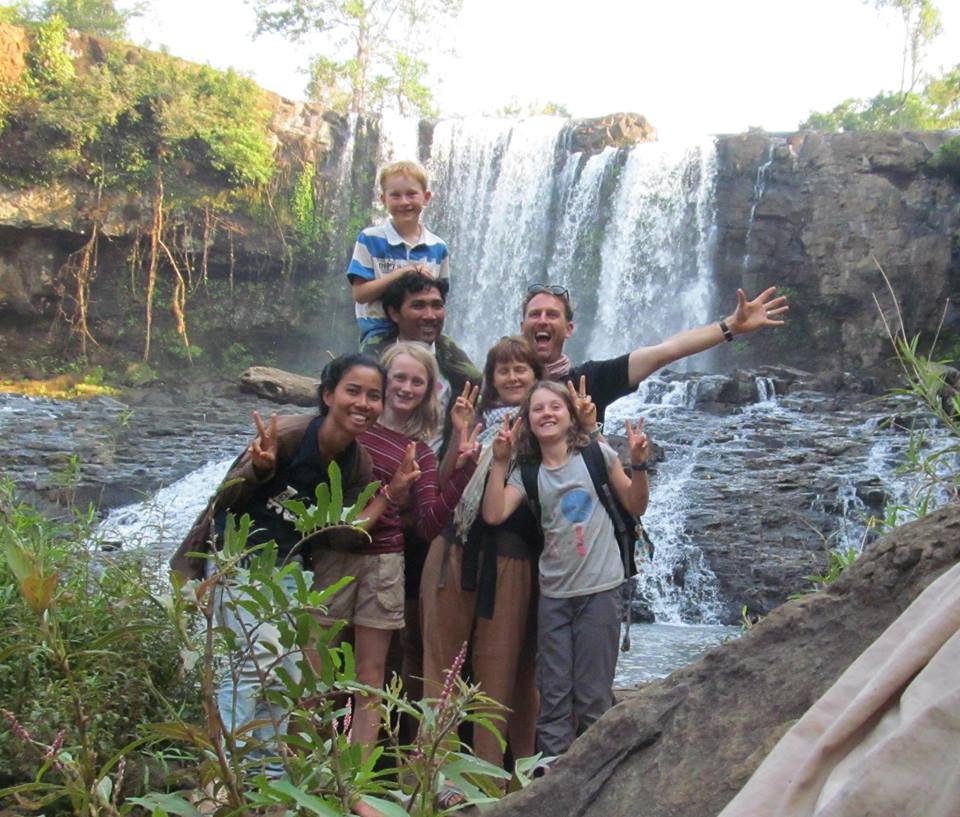 No doubt water trips are some of the most exciting family trips. Now…add some camping, black bear watching (you are 99% sure to see them), good food, guides that have fun with you and your kids, 2 nights at the Mattawin Inn with whirlpool, pool and sauna, a visit to a recreated ancient lumber- jack village and you get a unique and winning combination. Something for everyone!

This adventure takes you to the Mauricie region of Quebec, now remember Quebec is big, as big as the East Coast of the US so everything is divided in regions. Think of it as states. Our meeting point in the Mattawin Inn roughly 2.5 hours drive North East of Montreal or straight north of Trois-Rivieres.

Arrive by suppertime (which is included), meet your guides — your friends — for a six day 5 night adventure. After a good night sleep and wholesome breakfast we will leave for 2 days of rafting on the Mattawin River.

Here you will discover and experience the pure beauty and pleasures of the Mattawin Valley. We will spend the night in our tents right on the banks of the River and after we're all settled in … we take out the heavy artillery… marshmallows!

Day 3 will end back at the Mattawin Inn where we will spend our 3rd night. Before we go to bed however, we will make our way to the black bear observation station where Rangers feed the local black bears while they can be observed by you and your kids. Oh yeah… Kodak moment for sure!

After breakfast on day 4 we will leave in our van for a day of travel to The Portneuf Reserve and on to our next river, The Batiscan. Wee will make a stop on the way to have some fun in an early 1900 reconstructed lumberjack village, and visit a foundry.

We'll make some other stops along the way to take in the picturesque scenery.

We will have our next dinner at our campsite on the Batiscan River.

Exciting rapids will be the order of day for day 5 and half of day 6 on the historic Batiscan River.

All the rapids on the sections of the river we travel are level 1-2-3… lots of fun and excitement, but also safely done with little ones six years and older, in a raft.

Your trip includes, professional guide(s), raft, helmet, life jacket, paddles, wet suits (if necessary), camping equipment (tent, mattress, plates, utensils, etc.1q) 3 nights camping, 2 nights at the Mattawin Inn, 15 meals, and all taxes. Dates of departure on request starting July 1st.

PRICE :2 types of Packages
Family (2 adults 2 children) $4,200. US ($1,050. p/p)
Best deal
2 Families (4 adults 4 children) $5,900.00 US ($735. p/p)
| | |
| --- | --- |
| | |